Emsculpt Muscle Toning in Boston
What is Emsculpt?
Emsculpt is the only non-invasive treatment that builds muscle and tones your body. It is painless, completely non-invasive, and has no downtime. It is truly revolutionary.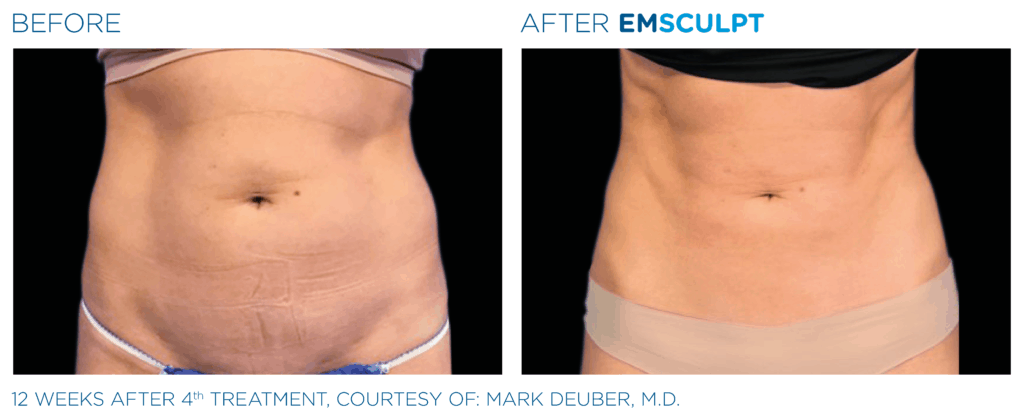 How does Emsculpt build muscle?
Through proprietary technology called Hi Intensity Focused Electro Magnetic (HIFEM) energy, Emsculpt stimulates your muscles fibers to a level that you cannot achieve on your own. When you work out, you are typically only able to activate a fraction of your muscle fibers, whereas Emsculpt is able to engage over 90% of your muscle fibers. In a matter of 30 minutes, while just lying on your back, you will have completed the equivalent of 20,000 crunches!
What will Emsculpt do for me?
Through seven multi center studies using MRI, CT, Ultrasound and tissue analysis, Emsculpt has been shown to increase muscle mass by an average of 16%. It has an unmatched 96% patient satisfaction rating. This increase in muscle mass has been described by our clients as a game changer. The added strength, whether of the core, quads, calves, glutes or arms has been described by our clients as helping with:
Better posture
Less back strain
Running faster
Performing better on the Peloton
Driving the golf ball further
Holding a plank for longer
Shooting a lacrosse ball faster
What does Emsculpt feel like? Does it hurt?
Emsculpt sessions feel intense but are not painful. It literally feels like your muscles are tensing involuntarily. You are not in any pain at all during or after the session and remarkably, you are not sore. How is it possible that you are not sore after the treatment? The Emsculpt protocol developed by BTL includes a "flushing" period, during the treatment, that clears the lactic acid so that there is no soreness after the session.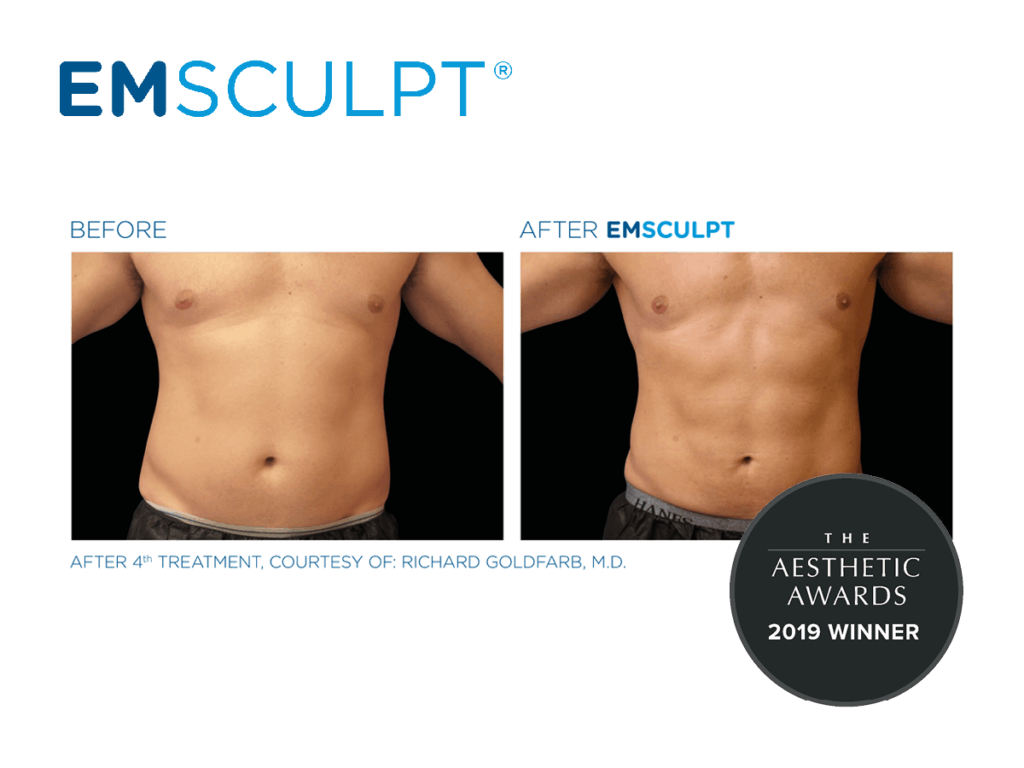 How many times do I have to do it?
A typical Emsculpt series involves two ½ hour sessions spaced apart by a couple days followed but another 2 the next week. You can do more sessions, but most people start with a total of 4 sessions. After this, a maintenance treatment once every 3 months is recommended.

Will Emsculpt give me a six pack?
Having a six pack is mainly based on having a good diet. Regardless of how strong your abs are, if you have a cushion you will not have a six pack. With Emsculpt, your abs will be stronger and if you eat well and exercise, you are more likely to have a six pack.
Will I look too muscular?
You will not look too muscular and it will not make you look bulky. Instead it will make you look and feel toned.
Do you have to be an athlete to have Emsculpt Treatments?
You do not have to be an athlete to have Emsculpt treatments. In fact, for those who don't regularly work out, it is an ideal, easy way to quickly become toned. On the other hand, our clients who are athletes have noticed an improvement in performance.

How long does it take to see results after an Emsculpt Treatment?
You will feel that your muscles are firmer and more toned soon after the first treatment. More noticeable results are usually seen 2-4 weeks after the series and beyond.
Who makes Emsculpt?
A leader in aesthetic technology, BTL Aesthetics, based in Prague and domestically in Massachusetts, is the only maker of Emsculpt. Other companies have and continue to try to copy the technology but Emsculpt remains the leader and gold standard.