Neck Lift in Boston
Dr. Ahn only performs cosmetic surgery on the face and neck.
Dr. Ahn is a double board certified facial plastic surgeon with over 20 years of experience.
Dr. Ahn specializes in minimally invasive surgery techniques, such as the neck lift.
Dr. Ahn focuses on achieving natural looking results after a neck lift.
Dr. Ahn has an accredited, private, office surgical suite located in the greater Boston area, central to all of New England.
How did Dr. Ahn become a Neck Lift expert?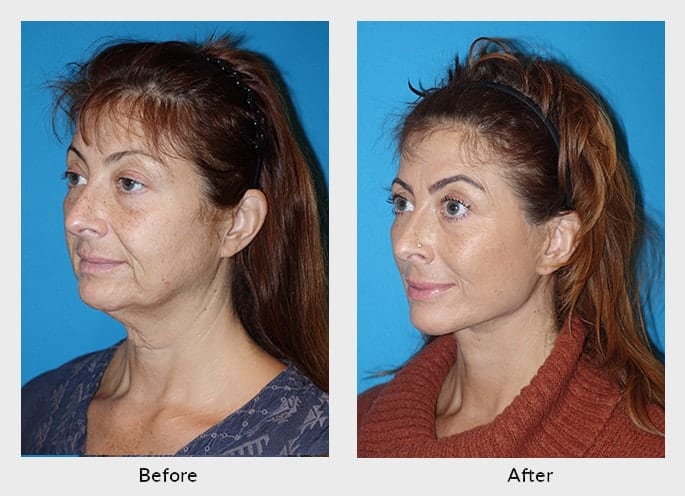 Results after an Extended Deep Plane Lower Face Lift and Neck Lift
*Disclaimer: As with all medical procedures, individual results and experiences may vary.
Since his training in San Francisco over 20 years ago, Dr. Ahn has come to the realization that not just one surgery applies to every patient.
The primary advantage if being trained on the west coast is the exposure to the most modern and effective techniques in minimally invasive facial rejuvenation. Neck lifting is one of those procedures that is able to achieve significant improvements in the neck contour with shorter incisions and less recovery.
Dr. Ahn's Neck Lift approach emphasizes the following principles
Natural looking results
Shorter incisions
Significant improvement in the neck angle
Less recovery
Who is a candidate for a Neck Lift?
There tend to be two distinct groups of patients who need a neck lift.
Group 1:
A healthy patient between the ages 35- 45.
Has always had a poorly defined neck angle from the side view.
Often other family members have the same anatomy. "I have my mother's neck"
Does not have prominent jowls- soft tissue that covers the jawline.
Group 2:
A healthy patient between the ages 45- 70.
Has lost the neck angle as time has passed.
Did have a nice neck angle when he/she was younger.
Also has jowls- soft tissue that covers the jawline.
Is therefore interested in combining a neck
lift with a mini lift or lower facelift.
Why does the Neck age?
The primary reasons are:
Loss of skin elasticity because of sun damage and the natural aging process.
Widening of muscle bands "platysmal bands" that create vertical neck bands- "the turkey neck."
More soft tissue / fat under the skin.
Highlights of Dr. Ahn's Neck Lift technique?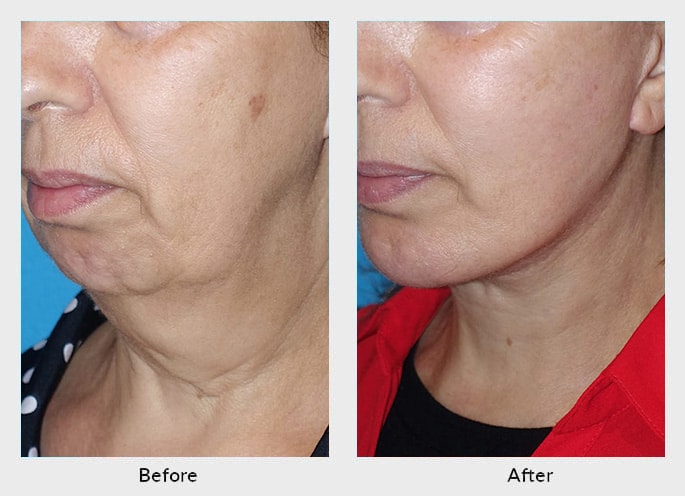 Remarkable One Year Result After Extended Deep Plane Lower Face Lift and Neck Lift with Chin Implant
*Disclaimer: As with all medical procedures, individual results and experiences may vary.
A small incision under the chin and short curved incisions around the earlobe.
Tightening of the muscle layers using a "corset" suture technique.
Surgical sculpting of the fat, not just blind liposuction.
Lower risk of injury to important nerves and muscles.
Shorter recovery.
Natural looking results.
SIGNIFICANT improvement in the neck contour.
Surgical Facility
For patients in good general health, all surgeries are performed at the Aesthetic Surgery Center, our on site, private, accredited office-based surgical suite. The Aesthetic Surgery Center is accredited by the Joint Commission (JCAHO), which is the accrediting agency for hospitals and outpatient surgical facilities.
Anesthesia
All procedures at the Aesthetic Surgery Center are performed under intravenous sedation, also known as "twilight anesthesia". We feel that procedures performed under twilight anesthesia are safer (without the risks of general anesthesia) and lead to a quicker and easier recovery.
Recovery after a Neck Lift
Immediately after surgery you will have a loose dressing around the head and neck. After spending the night at home or in a local hotel (we will make arrangements for out of town patients) you will return to the office the next day to remove the dressing. We will also clean your sutures and wash your hair. For the next week, you will do little but rest at home with your head elevated.
During this time most patients describe slight swelling and soreness along the front of the neck. Most patients do not complain of significant pain though we do prescribe pain medications. The stitches are removed after seven days and most people are presentable in public with make up at approximately 10 days. The overall recovery is approximately 10 days. If you have a special event planned, Dr. Ahn advises that you allow at least 3-4 weeks of recovery before the event.
Neck Lift FAQs