MyEllevate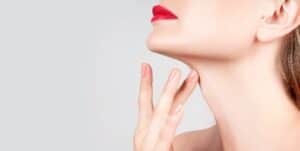 One of the first places that visible signs of aging appear on the body is the neck. Drooping skin and facial fat can lead to jowls and a turkey neck. To reverse these unwanted changes, the Aesthetic Wellness Center now offers MyEllevate, the best minimally invasive treatment for facial rejuvenation. This advanced, light-guided technology is ideal for addressing skin laxity on the neck and along the jawline. Dr. Min Ahn, a world-renowned facial plastic surgeon, has found MyEllevate to be highly effective at recontouring the neck without necessitating much downtime. His patients are equally impressed with the results that can last up to five years.
Candidates for MyEllevate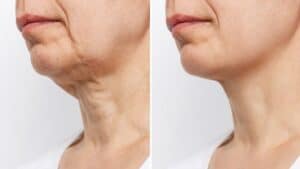 People who could benefit from neck lift with moderately loose skin and are not interested in undergoing a surgical procedure are good candidates for MyEllevate. These patients should have visible signs of aging on their neck such as:
Moderately loose skin on the neck
Sagging jowls across the jawline
Excess fat
Most patients are in their 30s, 40s or 50s. Although it is a less invasive procedure, candidates should be in good health and non-smokers. If a patient's signs of aging on his or her neck are more severe, Dr. Ahn may suggest surgery to achieve his or her desired results.
MyEllevate Procedure Details
While a traditional neck lift involves making incisions to reposition muscles and remove loose skin, MyEllevate uses ICLED®, a unique FDA-approved light-guided system, to maneuver a single, long suture underneath the surface of the skin. The technique was invented by a plastic surgeon in Beverly Hills who spent nearly 15 years perfecting the non-surgical technique.
By threading this suture under the neck skin, Dr. Ahn can lift the muscles and soft tissue beneath the jawline so that the neck is recontoured in a youthful and appealing manner. Because of his expertise in facial anatomy, Dr. Ahn understands precisely how to use the technology for maximum effect.
The procedure is gentle enough that most patients only need local anesthesia to stay comfortable. Typically, Dr. Ahn can complete this treatment in about one hour.
MyEllevate Recovery and Results
Patients can expect some mild swelling and bruising for a few days and should feel well enough to resume normal activities in a similar time span. Discomfort is modest and can be managed with pain medication. Dr. Ahn may will provide a chin strap to support the area. Since there are no incisions or sutures, there is no scarring.
MyEllevate's results are seen both immediately and over the ensuing weeks to months as the skin contours and tightens. These results are longer lasting than any other minimally invasive treatment. Patients can enjoy their new neck contours for about three to five years. Best of all, these results look natural: patients should recognize that they have reattained a neck and jawline that they last saw several years prior.
Schedule a Consultation
If you are interested in reducing your jowls and tightening sagging neck skin, you may be a good candidate for a less-invasive procedure. To learn more about MyEllevate and all your other options for rejuvenating your face and neck, please schedule a consultation with Boston's premier, double board-certified facial plastic surgeon Dr. Ahn by calling (508) 366-2020.