Tear Trough Treatments: Eliminating Your Undereye Bags
January 1, 2023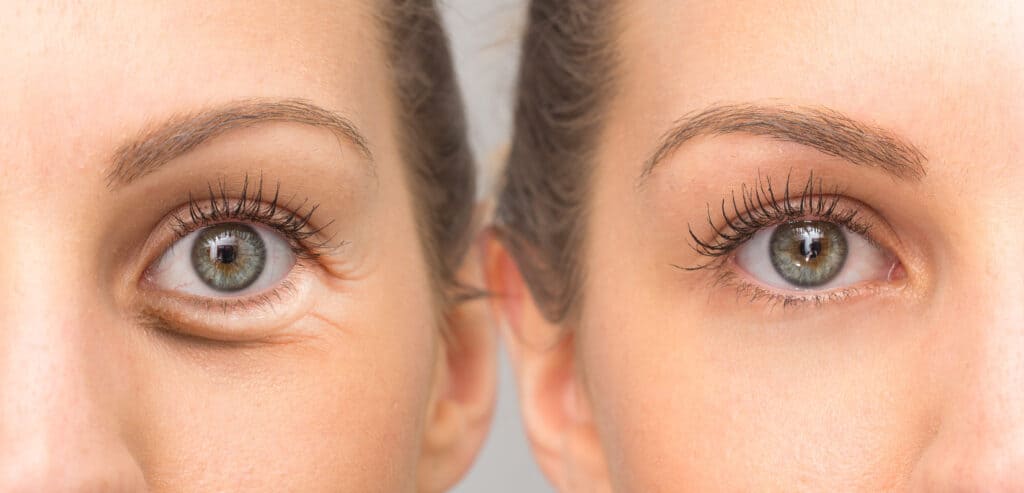 In your younger years, you may have noticed puffiness or dark circles develop under your eyes when tired or after consuming too much alcohol or salty foods. Improving your sleep schedule and diet were probably enough to restore smoother undereye skin with an even tone. As you get older, however, these bags can become more prominent and a permanent fixture, even with a good skin care regimen.
Here, double board-certified facial plastic surgeon Dr. Min Ahn discusses some of the ways that he minimizes his patients' undereye bags.
Blepharoplasty
The best surgical solution for lower eyelid puffiness and extra skin is blepharoplasty. Lower eyelid surgery focuses on removing and repositioning tissue just beneath the eyes to achieve a smoother, younger appearance. Dr. Ahn uses an advanced approach known as the trans pinch blepharoplasty with fat removal technique. It is a technique he developed alone over 20 years of experience. This refreshes the eyes without risking weakening the lower eyelid, which can create a "hound dog" look . Because the results are indefinite, you should be able to enjoy your results for the rest of your life.
Dermal Filler
Injectable fillers are a quick and efficient way to add volume to your skin. This makes them an appropriate choice for addressing the hollows under your eyes. With hyaluronic acid, Restulane restores fullness to this area where volume loss is common. Restylane lasts for about one year before subsequent tear trough injections are necessary to maintain the results. Dr. Ahn advises that you choose an expert injector for this treatment who has experience treating the tear troughs since an imprecise injection can end up accentuating the flaws beneath the eyes.
RF Skin Tightening
Skin tightening procedures use non-invasive techniques to heat the skin with radiofrequency. RF energy boosts the production of collagen in the following months to help tighten the skin and give it a smoother, more voluminous appearance. Not all skin procedures are appropriate for the undereye skin because it is such a sensitive area, but procedures like Morpheus8 and Fractora are gentle enough to be safe for this region. During a consultation, the team at The Aesthetic Wellness Center can walk you through the specific benefits of each treatment to help you choose the optimal one.
Schedule a Consultation
Whether you decide to treat the puffy, dark skin under your eyes with surgery or a non-invasive alternative, the experts at The Aesthetic Wellness Center can produce amazing looking results on your behalf. To learn more about any of these procedures, please arrange a consultation by calling (508) 366-2020.